Viewing & Accepting Freight Orders in Logistics Business Network
Overview
This training will teach you how to view and accept freight orders from Material Transport using Logistics Business Network.
1. Viewing Tendered Freight Orders
When you receive a new order you will receive an e-mail from SAP Logistics Business Network. Login to Material Transport's Logistics Business Network using the username or email address and password you created during the on-boarding process.
Click the link in the email or, under the Freight Order Management section, click on the "Freight Orders for Confirmation" tile: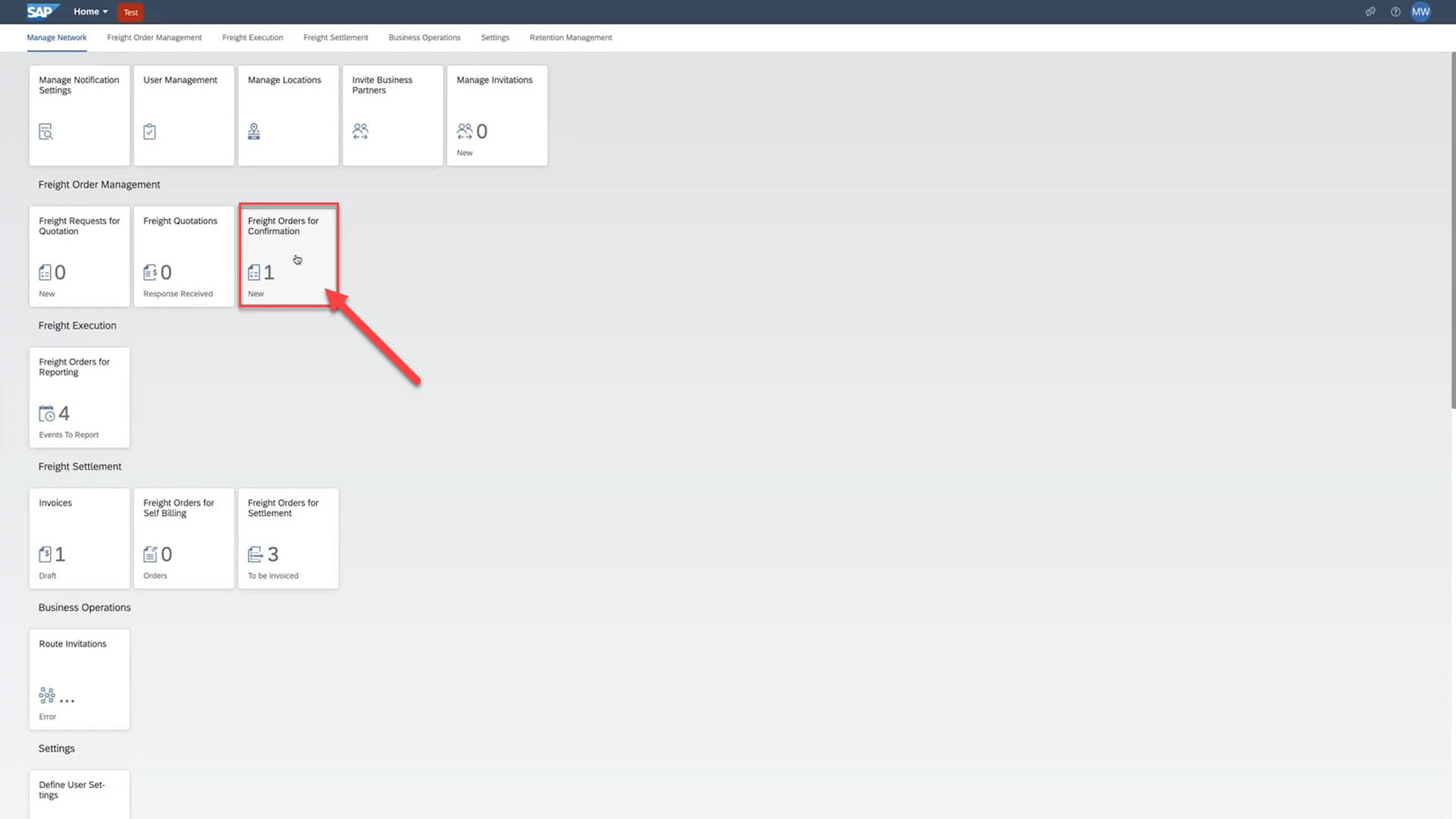 Here you will see all new orders that have been tendered to you from Material Transport and are waiting to be accepted.
Important: New freight orders must be accepted within 30 minutes of being posted.
General information is displayed about the order. You can see the order status, the time remaining to accept the order, departure date and time, arrival date and time, departure location, arrival location, number of stops, number of attached documents, and the price.
There are three status types for each order:
New – This is a new freight order.
Updated – This order has been updated. Check for any changes to the order.
Cancelled – The order has been cancelled.

Click the number under the  "Document References" column:
This will give a quick look at customer reference number, delivery number, and sales order number.
Click the "Close" button to close the "Document References" pop-up window:

You can see details about the order by clicking on the order row. Click anywhere in the order row to open the order, your mouse cursor will turn into a pointing finger:

In the details window you can see things like the distance, estimated duration, departure, and arrival addresses, and estimate gross weight in pounds:
Click on the "Cargo" Tab.
Here you can see a detailed view of the products in the order as well as attached reference documents and customer information:

Click on the "Tour" Tab.
Here you can see each of the stops for this order and any relevant information for that stop:
Click on the "Contacts" tab.
Here you can see contact information for each location:
Click on the "Notes" tab.
Here you will see any attached notes or additional instructions relevant to this order:
Return to the "Freight Orders for Confirmation" page by clicking the back arrow next to the SAP logo in the upper left corner of the page: 
2. Accepting/Rejecting Freight Orders
To accept or reject a freight order, select order by checking the box for the order to be accepted/rejected and click "Confirm" to accept, or "Reject" to reject the order in the bottom right corner of the page.
Note: You can select multiple orders by clicking the selection box for each order.

When the order is accepted and confirmed you will see a pop-up at the bottom of the page reading "Freight order for confirmation (###########) has been confirmed":
To return to the Logistics Business Network home page, click the back arrow at the top of the screen to the left of the SAP logo: 
Viewing and Accepting Freight Orders in Logistics Video