Resolver disputas abiertas con Material Transport.
Información general
En este escenario usted como el transportista, envió una factura que tiene ciertas discrepancias de acuerdo con el monto que se había acordado anteriormente con Material Transport. Esto ocasionará que en el Logistics Business Netowork o por sus siglas en Ingles LBN genere una disputa. Cuando Material Transport revise dicha disputa ellos pueden aprobar, contrarrestar o rechazar la disputa. En el caso de que Material Transport no apruebe la disputa usted podrá ver el estatus de la misma en el LBN. Este material le mostrará los pasos a seguir para resolver una disputa abierta con Material Transport.
1. Resolviendo la Disputa.
Para ver las disputas que están abiertas haga clic en la pestaña que dice "Freight Settlement" y abra la aplicación que se llama "Disputes"
Nota: El icono de la aplicación mostrará el numero de disputas abiertas, en nuestro ejemplo, hay solo una disputa abierta.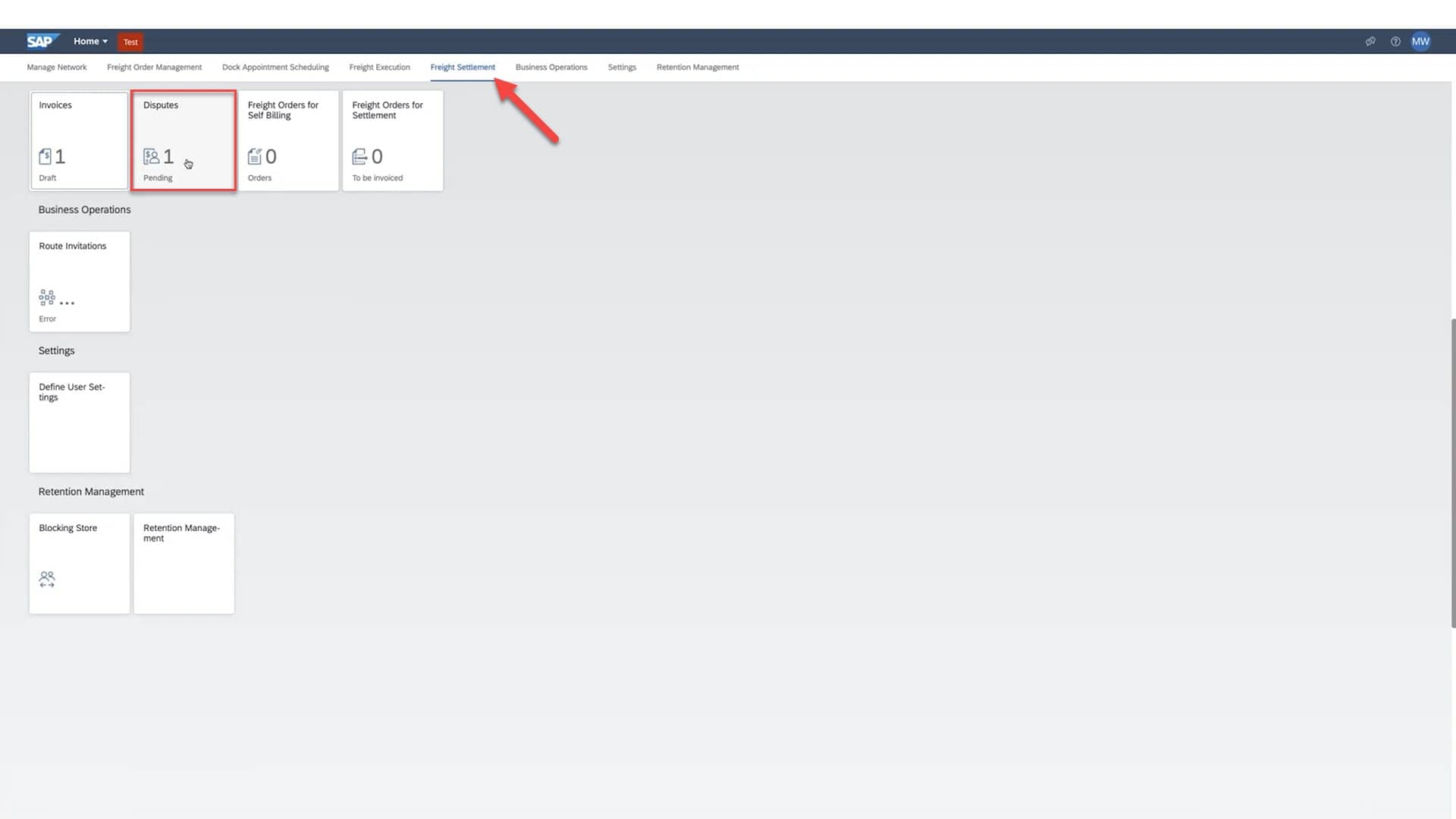 Dentro de la aplicación usted podrá ver todas las nuevas disputas, así como diferentes vistas para poder filtrarlas y ver todas, nuevas, por ser aprobadas, enviadas y resultas.
Vamos a resolver nuestra disputa que se encuentra abierta, para hacerlo tenemos que darle clic en la pestaña que dice "To Be Approved" seguido de otro clic en la disputa en cuestión:
Nota: las disputas que estén disponibles para se pondrán en color gris como se muestra a continuación.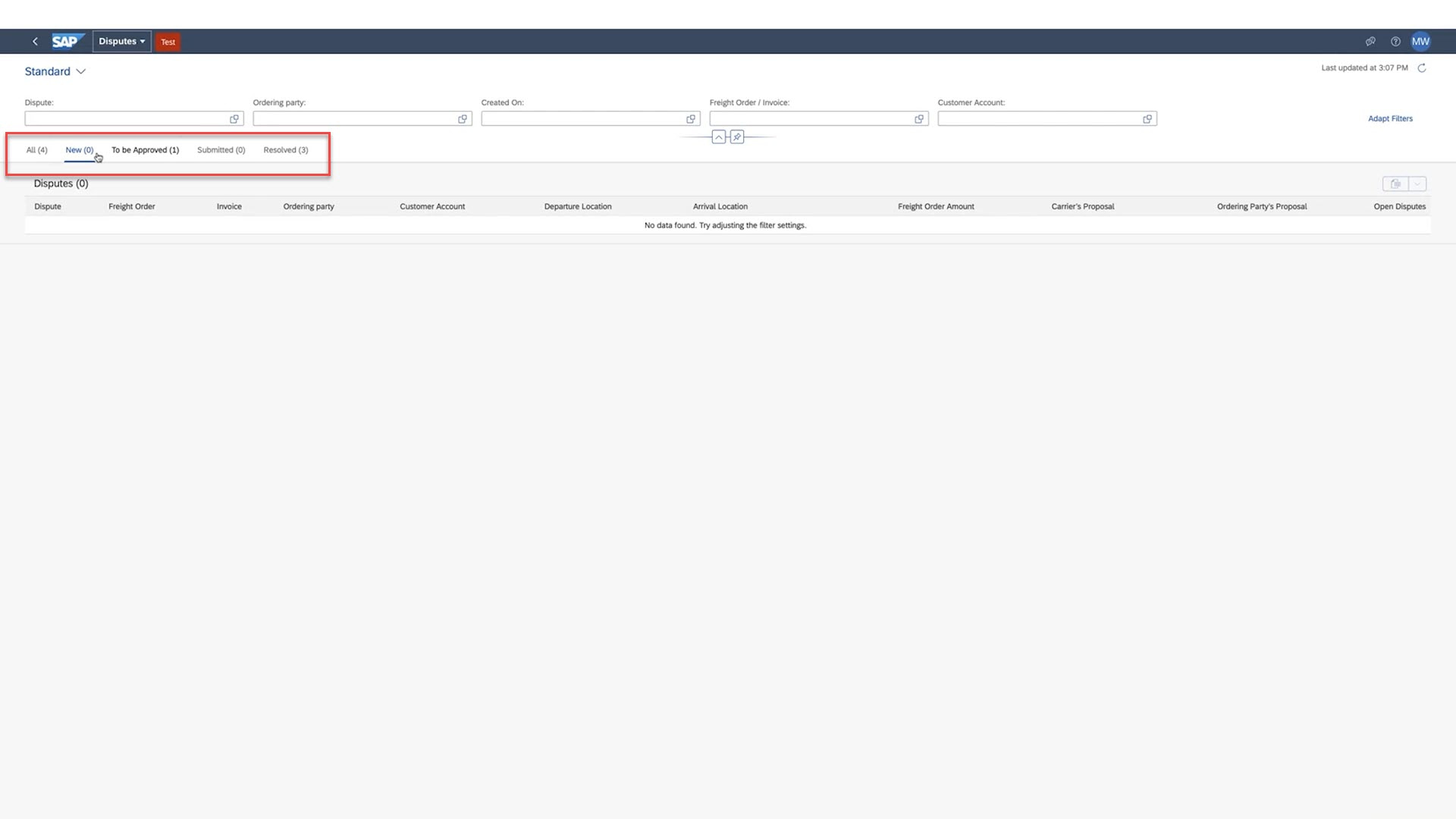 Si usted le da clic a la disputa usted podrá visualizar los cargos en cuestión en la disputa. En nuestro ejemplo se muestra varios cargos como la tarifa del traslado (linehaul rate), un cargo por una parada (stop off rate), cargo por lona (Tarping charge) y por espera(Waiting charges).
En la columna de estatus (Status) usted podrá ver que los cargos por la parada y por la lona fueron aceptados pero los cargos por espera fueron rechazados.
En el caso de ser rechazada, se mostrará la razón por la cual el cargo fue denegado, en nuestro ejemplo se muestra la razón por la cual el cargo no fue relevante y por lo tanto fue rechazado.
Para ver la razón por la cual fue rechazada solo tiene que darle clic a la línea y se desplegaran las notas, en este caso el cargo fue rechazado porque en el lugar que se hizo la entrega se confirmo que no hubo ningún tipo de tiempo de espera.  "No Waiting confirmed by the shipping site."
En este punto usted puede aceptar la contra oferta que Material Transport le está ofreciendo o enviar tu propia contraoferta
Para contrarrestar la oferta todo lo que tiene que hacer es escribir la cantidad que usted desee en cada una de las filas y cuando termine darle clic en el botón de "Submit".
Nota: después de haberle dado clic al botón de "Submit" la factura será enviada a Material Transport para ser revisada.

Para aceptar la oferta con Material Transport solo tiene que darle clic al símbolo de  en la fila.
Al hacer esto, el estatus de la oferta cambiara a "Accepted by carrier after rejection" y el monto de la fila en cuestión cambiara a $0.00
Cuando usted termine de actualizar la disputa solo tiene que darle clic al botón de "Submit" para enviar la factura con los nuevos cargos a Material Transport para su facturación: 

Cuando usted haya terminado con todas sus disputas usted puede regresar a página principal de LBN haciendo clic en el símbolo de menor que "<" que se encuentra en la esquina superior derecha junto al logo de SAP:
LBN Resolviendo la Disputa Video